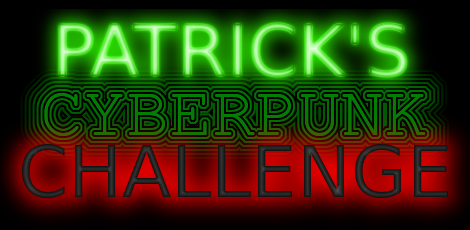 Patrick's Cyberpunk Challenge
So good it's good
This game, which I submitted to the "So bad it's good" jam, ended up getting several comments saying it was too good for the jam (including one from the jam host), and finished #2 in the "Overall good" category. Therefore, I thought I'd fix up some of the actual bad stuff in the game, so I can be proud of it like I should be, instead of feeling like I screwed up the jam.

First out: The title screen.
Logo
The title screen didn't actually have a logo, just the game's name written in three different colors:
Green for "Patrick's", since he's a leprechaun I guess
Dark green for "Cyberpunk" since that's a kind of cyberpunk color that's not pink like everything else in the game
Red for "Challenge" because it's kind of ominous
I did end up making a logo of sorts for the game page. I used the same colors, and applied some nifty default filters I found in GIMP.
Now the title screen has a slightly similar, but still basic, logo. If anyone wants to make a logo for me, let me know!

Grid horizon
The title screen also has a vaporwave-style scrolling pink grid horizon, since the jam's theme was "cyberpunk" and the game consists of grids. I made the grid in a few minutes, without knowing much about PICO-8, and it looked like actual garbage.
I have now replaced it with a modified version of electricgryphon's grid tweetcart. If you want a similar effect, there's also a slightly more legible version here, which scrolls vertically instead of horizontally: Tron Style 80's Animated Landscape on Pico-8
Other enhancements and fixes
If anyone has any suggestions for other things I can/should fix, let me know.
I have already reused the concept in some other jam games, like Patrick's Pocket Challenge for the Game Boy (which has a pretty nice logo, if I may say so myself). Since the Game Boy only has four colors (shades of gray, really), that version doesn't have colored balls. Instead, it has the legend symbols directly on the tiles. Perhaps it'd be a good idea to do the same in this version, so you don't have to learn what the colors do?

Get Patrick's Cyberpunk Challenge