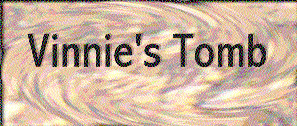 Vinnie's Tomb Chapter One
Vinnie's Tomb Chapter One - The Road to Vinnie's Tomb was originally developed by Troy Scott and released by Reldni Productions in 1997. This version was ported to HTML5 by Mike Welsh of the Reldni Productions Restoration Project and is provided here for historical purposes.
Welcome to Vinnie's Tomb
Are you ready for an incredible action game with stunning graphics and sound? How about spectacular 3D animation that puts "Duke Nukem 3D" and "Descnet" to shame? With Vinnie's Tomb, you'll experience first hand, the game you were not looking for. Vinnie's Tomb pales in comparison to "Duke Nukem" and many other favorite popular games! We hope however, you'll find a fun filled adventure that will amuse you for at least two minutes.
In the game, you take on the role of Vinnie the pierrot. You are on a journey to find the forbidden treasure of Ernie York. It is allegedly buried in your Great Great Great Great Not So Great Grandfather's electronic store. Long ago the store was converted into a tomb. Your Great Great Great Great Not So Great Grandfather was also named Vinnie. This is just one of the trivialities of the wonderfully splendid game we call "Vinnie's Tomb PART ONE (The Road to Vinnie's Tomb)". As you can see Reldni Productions lacks imagination when it comes to software titles. You'll probably have to read this introduction several times to make any sense of it.
Story
A long time ago, or perhaps not, you learn that multimillionaire Ernie York kept a large sum of valuable electronic surveillance equipment and cryogenic hardware at an electronic store. This happened to be the same electronic store where your Great Great Great Great Not So Great Grandfather worked at. Fifty-nine years ago the store was transformed into a tomb. No one really remembers why.
Recently you received an anonymous phone call from an anonymous caller. The caller told you that your Great Great Great Great Not So Great Grandfather Vinnie was entombed by the local SZC (Sinister Zebra Committee). Being a gullible idiot, you believed the caller.
Everyone in the world knows about the legend of Vinnie's tomb, except for the people who don't know about it. Now you must find the utter horrible truth! You'll meet bizarrely sketched creatures and pick up desirable objects during your quest to find Vinnie's Tomb. It's a lot of fun, we hope.
Download
Install instructions
"Vinnie's Tomb, Chapter One - The Road To Vinnie's Tomb (for lack of a better title) Version 2.0" is now available. It is only 7.0 MB. It features amusing graphics and stunning sound. The game is free for downloading. It requires no registration. It is not available in stores. The game requires Windows '95. This version DOES NOT use or require the Microsoft Internet Explorer browser. Vinnie's Tomb can be easily uninstalled after you realize it's a waste of disk space.